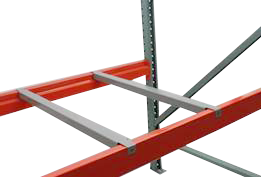 Used Crossovers for Warehouse Racking
Solid steel cross over/pallet supports help distribute weight evenly and provide support.  Use with solid steel quality used racking for your pallets, boxes or crates.  Approximately 1/3 the price of new! 
SIZE: 42 inch depth.  Also available 8 and 12 foot height (uprights), 8 foot width (beam).
PRICE:  $12/crossover.  $60/upright sold separately.  $25/beam sold separately.
Picture shows similar product.
---
We Also Recommend
---